Today, braces are no longer worn only by teens. Almost 20% of all people who wear braces are adults. If you are one of the millions of people who do not have perfectly straight teeth, braces can help you change the shape of your smile. If you would like to have less visible options than traditional metal brackets, Amy James, DMD, MS at Dr. Amy James and Associates Orthodontists can offer you ceramic braces that may be a great fit for you.
What Are Ceramic Braces
As the name implies, ceramic braces are orthodontic appliances that are made of ceramic. Clear wires may also be used with these brackets to make them even more discreet. In addition, ceramic braces also come with clear or white rubber bands.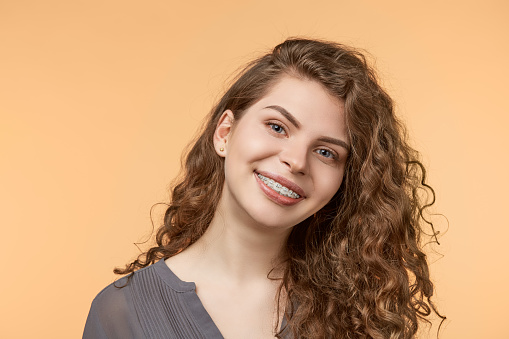 Whether you are using metal braces or ceramic braces, the amount of time required to straighten the misalignment or gaps in your teeth is the same. In addition, ceramic braces are just as effective as metal braces.
Benefits Of Ceramic Braces
People who use ceramic braces report many benefits:
| | |
| --- | --- |
| • | Less Obvious: Many people hesitate getting braces because they find them to be embarrassing. However, ceramic braces can be matched to the natural color of your teeth, making them less noticeable. |
| • | Very Durable: People think that since these braces are made of ceramic, they may not be able to last them the entire treatment period, and they will have to pay the expense of getting them replaced. However, ceramic braces are very hard and durable and will remain undamaged throughout your treatment. |
| • | Less Uncomfortable: Ceramic braces are less irritating and painful than traditional braces since ceramic is not as hard as metal and does not cause damage to the soft tissue of the mouth. |
| • | Conserve Tooth Enamel: Thanks to advanced dental technology, ceramic braces can easily be removed once your treatment is finished. Older counterparts would sometimes result in enamel mineralization; however, there is little risk of that when removing modern ceramic braces. |
Alternatives To Ceramic Braces

Aside from metal braces, there are some other orthodontic alternatives available for ceramic braces:


Self-ligating braces are very similar to regular braces, except they do not have rubber bands. Instead, the wire passes through small metal supports that help in the movement of the teeth. These braces require fewer adjustments than regular braces and are more comfortable. The brackets can be made from either metal or ceramic.


Lingual braces are the same as regular braces, except their brackets are attached to the back of the teeth. Because of this, they are barely visible. They are also as effective as regular braces but cost a bit more.


Invisalign involves the use of a series of clear BPA-free plastic aligners that are designed to straighten the teeth over a period of several months. These aligners are removable and almost invisible. However, they are more effective for making only slight orthodontic changes like fixing slight overcrowding, gaps, and crossbites. They are not very effective for complicated orthodontic issues.


Schedule An Appointment Today
Ceramic braces offer discretion and are very effective in straightening your teeth. If you are in need of braces, or if you have a braces emergency, call Amy James, DMD, MS at (856) 216-8009, and we will find out if ceramic braces are a right fit for you. Request an appointment today.