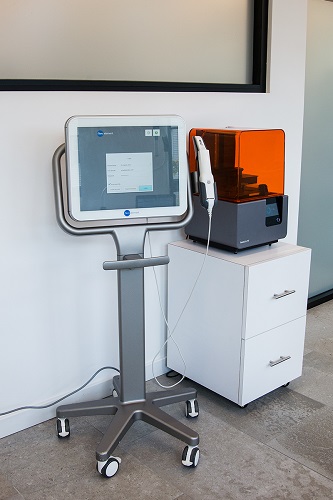 Technology in orthodontics is positively changing the dynamics of treatment planning for our patients. The many advances in technology in the field of orthodontics are all very exciting and we are certainly early adopters in the utilization of these new technologies in our office. For many years, we have been using digital photography, digital radiography, digital x-rays and paperless charting. Today, virtual/3D treatment planning has expanded our ability to treat each patient with the best treatment plan available and has revolutionized our approaches towards treatment. We can even simulate a representation of each patient's final result, allowing patients to visualize their outcome before they even start their treatment. Here are a few of the technologies we use to ensure our patients have the best experience in our office:


CBCT
Cone Beam CT scans are 3D x-rays that our office utilizes to make all of our diagnostic measurements for treatment planning. X-rays are always a topic of interest in the medical world, but we are happy to say that our 3D digital x-rays have extremely minimal exposure to radiation for our patients. Not only is the exposure to radiation minimal, but the amount of information we receive from these images is instrumental in the diagnosis and treatment planning for each patient. We take pride in giving each of our patients a treatment plan tailored to their individual concerns and these CBCT images allow us to carefully study each aspect of your case and give you the best result possible.


ITero Scanner
No more goop, no more gag! Impressions are a thing of the past. No one enjoys having an impression taken and we are proud to say you do not have to take impressions anymore with our intraoral scanner. An intraoral scan (IOS) takes approximately 3 minutes to acquire and gives us the most accurate 3D rendering of your mouth. The best part, there is no radiation involved. It captures each image with CAD-CAM video technology. With these 3D digital models, we have the ability to virtually design each case, whether you are treated with aligners or braces. These virtual set-ups ensure your treatment is efficient, giving you the best result in as minimal an amount of time as possible.


FormLabs 3D Printer
3D model printing has revolutionized our lab process. The models rendered from our IOS are printed with our FormLabs printer and used to make your custom fitted appliances, like expanders and retainers to name a few. These models ensure the fit of your appliance is as ideal as possible due to the accuracy of the digital models acquired from our IOS. We are able to print models of your mouth and study your case with an integrative approach to ensure your treatment is as efficient as possible.