Congratulations! You have made the decision to take the first step toward a beautiful smile for life through orthodontic treatment. It's a big commitment and you want to make decisions carefully throughout your treatment plan.
You and your orthodontist have already ruled out traditional metal braces because of their visibility, so now you must choose either Invisalign or ceramic braces. You have heard about both, but need more information before moving forward. After all, you will have to live with your decision for months so you want to make the right choice.
In this article, we will examine the pros and cons of Invisalign vs ceramic braces. It's important that you are comfortable during your orthodontic treatment plus there are other considerations to weigh, too. Read on to learn what each has to offer so you can make the best choice for your needs and your budget.
Braces 101
Many people assume that the technology used in braces is relatively new. But you may be surprised to learn that the Greeks, Romans, and Egyptians were straightening teeth 5000 years ago. Mummies have even been discovered wearing them! This tells us orthodontics has been around a very long time and the technology isn't new at all.
Modern metal braces that most of us are familiar with were invented in France in 1819. They were woven wires that fit over the teeth, the forerunner of today's metal braces. This was the standard until about 30 years ago when ceramic braces were introduced. Ceramics are less noticeable and they are also less abrasive to the mouth than wires. Next came clear plastic aligners in 1997, which took all the metal away plus gave you an orthodontic appliance that can easily be removed for eating and cleaning.
Now let's compare what both clear Invisalign and ceramic braces have to offer and what you should consider before moving forward.
The Pros and Cons of Invisalign Clear Aligners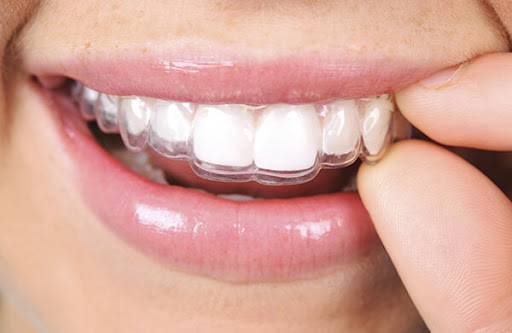 Invisalign clear plastic aligners have revolutionized orthodontic treatment for straightening teeth and adjusting bite problems. In fact, over 15 million people have used Invisalign clear aligners! 
The system is straightforward and easy to use. Instead of brackets, bands, and wires in your mouth, Invisalign is a system of clear plastic trays made specifically for each patient. They slip over the teeth like a mouth guard and are changed roughly every two weeks. Each tray puts a different pressure on the teeth to eventually reach the goal of a beautiful smile.
Now let's break down what you need to asses when it comes to the Invisalign system:
Pros:
The clear aligners' most attractive asset is they are nearly invisible on your teeth. This is one reason teens love Invisalign! Compared to ceramic braces, they are much less noticeable.
Invisalign works well for people with milder bite and spacing issues, as well as overcrowded teeth.
One of the biggest advantages is that you remove clear aligners when you eat. So, you can eat anything without the worry of food getting stuck in braces.
There is no need for visits to the orthodontist for tightening of brackets like ceramic braces. You order the trays through your orthodontist and they will be delivered to your home. You'll only need to go into the office for periodic checkups.
In many cases, clear aligners work faster than braces. You will wear them for about 6 to 18 months. (The exact timeframe will depend on the specific case.)
Cons:
Invisalign clear aligners generally cost more than ceramic braces.
They are more often lost since they are removable. Users sometimes forget to put the aligner back in after eating, resulting in it accidentally getting thrown away.
The aligners can be damaged if not removed when eating.
The Pros and Cons of Ceramic Braces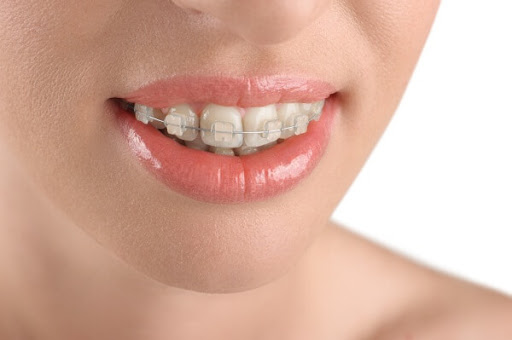 The ceramic portion of these braces refers to the brackets that are attached to your teeth. They are made of a ceramic, porcelain, or plastic material that is clear or a shade that matches your teeth.
Ceramic braces work just like any traditional metal braces, though. The brackets are cemented to your teeth for the duration of your treatment plan and then they are tightened every few weeks by your orthodontist.
Here are the things to assess when considering ceramic braces:
Pros:
These braces are much less visible on your teeth than traditional metal braces.
They are generally more affordable than clear plastic aligners.
For clients who have more complex orthodontic issues to correct, ceramic braces are a better option.
Cons:
They are more noticeable than clear plastic aligners.
They are less comfortable compared to Invisalign.
There will be foods that you won't be able to eat as long as you wear the braces.
Brushing your teeth while wearing ceramic braces requires a high level of care. The wires and brackets can be damaged if you are not careful.
Which Is Best for You: Ceramic Braces or Invisalign?
Straightening teeth and correcting orthodontic issues has come a long way since the days of the Romans and Egyptians! Patients now have more discreet choices available. And we have broken down an in-depth comparison of two of the most popular choices: Invisalign vs ceramic braces. Both will give you a smile that will provide a new level of self-confidence but there are factors that you must consider between the two.
Discuss your options with our orthodontic team at Dr. Amy James & Associates and ask all the questions you have. We will be glad to advise you on which may be the best choice for you so that you achieve the greatest results possible.
Don't wait any longer! Contact us to set an appointment today and get started on the smile and self-confidence you've always wanted.